Cristiano and Kaka make it four straight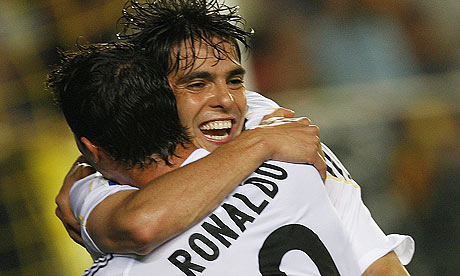 Villarreal 0-2 Real Madrid
Carlos Cristobal / Translation by realmadrid.com

Real Madrid needed a win at El Madrigal to maintain pace with the top of the table and they did just did. It was a hard-fought match between both sides with eye-popping football giving way to maximum concentration on the pitch. Cristiano Ronaldo scored in the second minute of the match and Kaka knocked in his first of the season to give the Whites their fourth straight league win and fifth overall.

Pellegrini was forced to make a change prior to kick-off after Garay, who would be replaced by Gago, was injured in the pre-match warmup. The Argentine took position in the midfield, Sergio Ramos moved into a center back slot and Lass retreated to right back. There was also a tactical change that saw the more frequent 4-4-2 changed to a 4-3-3 with Granero and Guti accompanying Gago, Cristiano Ronaldo glued to the left wing and Kaka along the right half of the pitch.

Not two minutes had ticked off the clock when Real Madrid displayed its fire power once again. Cristiano Ronaldo had his second early goal in as many matches (on Sunday he scored against Xerez 50 seconds after opening kick-off) after receiving the ball on the left. After a give and go with Sergio Ramos, the Portuguese swerved through defenders and from 25 meters out blasted a powerful shot towards the right post that beat Diego Lopez.

Villarreal never caved in and did their best to seek an equalizer, but the Whites' back line held its ground and didn't budge. Real Madrid threatened on several counterattack occasions and took control of the ball. Higuain was unlucky on 22' and Ronaldo nearly completed a brace on 34' after Gonzalo was sent off for a second booking.

Neither side had momentum in the second and the ball had trouble escaping from the midfield. A man down, Villarreal never had clear ideas on how to reach the adversary's box. Real Madrid tried to dictate tempo and on 70' managed to nail the coffin shut when Mejuto Gonzalez pointed to the penalty spot following a handball by Angel. Kaka was given the honor of taking it and scored his first goal of the season.

Real Madrid are now four-for-four and host Tenerife on Saturday at the Bernabeu.

Lineups

Villarreal

Diego López

Ángel López



Godín

Capdevila

Gonzalo



Bruno



Eguren

Cazorla

J. Pereira 78'

Cani

Marcano 78'

Nilmar

Rossi

Pires 67'

Real Madrid

Casillas

Albiol

Sergio Ramos

Marcelo

Lass



Granero

Gago



Guti H.



Diarra 83'

Kaká

Goal 74'

Van der Vaart 77'

Cristiano Ronaldo

Goal 2'

Higuaín

Raúl 67'