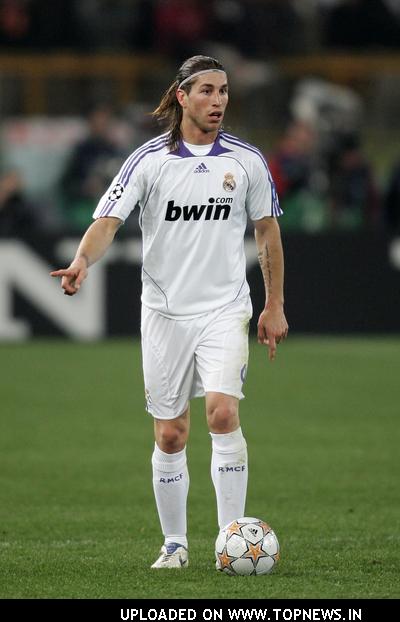 "I have always felt supported by the Bernabeu"
Sergio Ramos finally reappeared on the playing field after nursing an injury for more than two and a half months. The defender sat down with AS and El Larguero to discuss his recovery process and all the news surrounding the team.
You have been sidelined for nearly three months.
I began to run in Zahara with ten days of vacation left. I noticed I had strained my Achilles and decided to come back to have it looked at. They drained some fluid and discoveed tendonitis and a small soleus tear.
Do you feel better?
A lot better. I was bothered from a nagging injury and because I didn't have the time to slow down, it never got better. I am now starting from scratch.
Better than last year?
I played a lot of matches including the Euro and the body can only take so much. I was sidelined for two and a half months after the Confederations Cup, so I started off with a clean slate and with batteries recharged.
Last year it looked like you pushed yourself beyond what is recommended.
Two years ago I received shots during two matches but then stopped because I broke my nose. I received even more last year because there weren't enough players on the team. It helps on the day of the match, but then you feel the side effects. There were no rotations and we played every match. I will take better care of myself and do things the right way.
What wears you down more, playing as a right back or center back?
As a right back. As a center back all you have to do is mark your man. Along the wing you have to move up and down. I run between 12 and 13 kilometers in that position.
Without physical wingers the demand placed on the left and right backs is much greater.
Whoever plays along the left has Cristiano in front of him. On the right, Kaka, Benzema and Rauk rarely play on the wing because they are goal scorers. Granero sometimes makes his way over. For a defender it is always nice to have a winger to work with.
You have to admit that you like to advance up the pitch.
I like room to run, but knowing that my position will be covered if I do. You have to think twice if it was any different because you can't let an opponent get behind you.
What happened last season in the 2-6 defeat against Barcelona?
Fans expected a lot. It was the moment to make a statement in La Liga. It wasn't my best match, but football always gives you a chance for revenge and we have another two matches against Barcelona this year. Fans will always remember the last match.
Some still believe that Barcelona wouldn't have won the league had they lost in the Bernabeu.
We believe the same thing because they had the Champions League to consider as well.
Do you have a bone to pick with Henry, who got the best of you in that match?
Of course, but Henry is a great player who is fast, talented and who has a long stride.
Eto'o or Ibrahimovic?
They are very different. Eto's is faster, scores more, pressures and is more mobile, but he doesn't produce like Ibrahimovic near goal. Eto'o was an anxious defender. But whatever the case may be, they have as good a team as they did last year and they all know each other very well.
But Real Madrid isn't the same as it was last year.
No. We still have to improve as a group and recover our European prestige. Unlike last year, teams don't pressure but rather fall back and defend. We have regained respect for adversaries. We must pressure more as a team and in a more advanced position.
Did Real Madrid rebuild well?
There are now two players per position and up to six positions can be changed from one Sunday to the next. The rotations ensure that no one is out of rhythm when it comes down to crunch time.
Will the league only have two real contenders?
I would rather see four or five so that it is more exciting. Sevilla, Villarreal, Valencia and Atletico,who despite getting off to a slow start, will be there. It would be good for Atletico to have something at stake when Barcelona visit the Calderon.
Do you think there is still no answer for handling Barcelona?.
No. This year there is a team that has rebuilt itself very well and that would be us. We will be on a level playing field this year, but we do need time to finish adapting.
What was your first impression of Pellegrini?
He is a fantastic coach. He has a ton of experience and is a very serious person. He has one-on-one contact with players and places a lot of importance on schedules and attitude.
And Cristiano?
A professional who takes care of himself like no other. He loves the gym.
Would you challenge him to a decathlon?
He would win in speed, but we would be pretty even in everything else. He has worked very hard. Four years ago he was very lanky.
Have you ever heard Kaka swear?
No, no (laughs). And we play the same jokes on him as we do on every one else. He is always smiling no matter how he feels. He is like Roberto Carlos and Cannavaro.
You have yet to fine tune your crossing skills.
I am improving. I work hard on them in training, but I am not Beckham.
What you really enjoy is playing as a center midfielder.
And I have already played there under Lopez Caro and Luxemburgo. I like playing as a sweeper. I don't provide the final pass, but I can if I have to. The position allows you to advance up the pitch but also help the center backs.
Has your relationship with the Bernabeu settled down?
Other than some isolated moments last year, I have always felt supported by the Bernabeu.
Pepe returns soon after his crazy attack on Casquero.
He is a great defender and a calm person. His reaction surprised a lot of us. He is never aggressive in training. He told us he didn't realize what had happened until he saw it on television.
Is the team a bit more relaxed with the new administration?
Real Madrid has recovered a sense of stability. I have always had a good friendship with Florentino and I will always be grateful for the opportunity he afforded me by bringing me here.
You must be anxious to return to the national team.
Of course. There is a good team in place that can do well in the World Cup. We now feel a bit of pressure having won the Euro, but we don't think we are favorites. Del Bosque and Hierro have kept in touch with me during my recovery.
Your competitor, Arbeloa, is now a teammate.
We get along really well and learn from one another.