Kaka and Cristiano Ronaldo want to help write a new chapter in Real Madrid's history books and believe that winning the Champions League this season would be a start.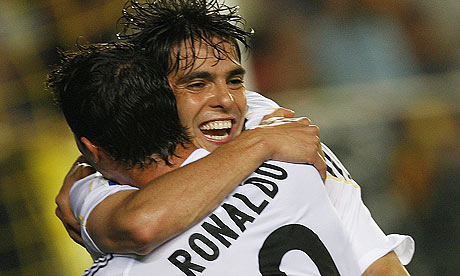 The duo joined the club for a combined total of €161 million in the summer and are seen as the key sources of attacking flair this season.
Kaka was keen to remind Los Merengues that winning the Champions League is not a right and requires hard work and a little bit of luck.
"I am proud to be part of this team. We want to win and make Real Madrid history, but we must take things slowly and calmly," he told the club's official website.
"It isn't easy to win the Champions League. People are talking about it as if we had already won it; the team still has to grow and improve on many things. We dream about playing the final at our stadium."
Ronaldo agreed, telling fans that realism must play a part as becoming kings of Europe will not be easy.
"The fans' euphoria concerning the new project is normal, but just as Kaka has said, we have to take things slowly and focus on each match at a time," he explained.
"We want to win, but success doesn't come from one day to the next. We have to remain calm and build a proper team. I think we have chances to win, but we must take things slowly and work hard. That's what's most important."
Real are challenged at the Bernabeu by Olympique de Marseille in Matchday 2 of the Champions League on Wednesday evening.